OUR MISSION IS TO BE OUR CLIENTS' GO-TO CREATIVE PARTNER

We apply creativity and technology to deliver highly effective communications solutions, whether it's marketing strategy, website design, advertising campaign creation, tradeshow support, press release writing and distribution, or print collateral. And it's all offered with practical advice on maximizing benefit over cost.
Building relationships and providing knowledge and expertise are our most important strengths.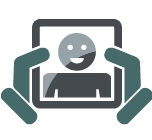 Professional Image
Your brand tells a story about you and reveals information to your audience.
PUT YOUR BEST FACE FORWARD
We will work with you to create a polished, consistent image to present to your world.

Marketing Mix
Marketing activities should integrate multiple channels for best results.
A Recipe for Success
We will work with you to find the best mix for your business and provide options that fit your budget.

Working With You
Your marketing team should be responsive, reliable and proactive.
Reliable Partner
Your business matters to us. We will be accessible and reliable. We will work with you, not just for you.
Hours of Marketing Experience
Meet Your New Marketing Team.
Located in Houston. Working with Clients Worldwide.